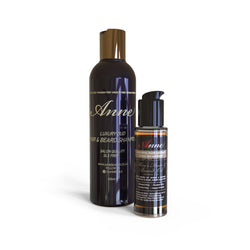 Men's Hair & Beard Oil Enjoy the ultimate Experience with our nourishing Hair & Beard oil. This specially formulated natural oil will thicken, condition, smooth and nourish your hair & beard, with a healthy and refreshing feeling all day. Intense Oud description - An oriental accord of oud with notes of myrrh and incense, patchouli and musk, amber and balsams. The Hair & Beard Oil will: • Strengthen hair follicles • Significantly reduces hair loss • Increases hair thickness • A fuller patch free beard • Promotes Hair growth • Repairs damaged hair • Delays premature hair greying • Treats dry scalp • Hydrates scalp & beard • Adds Shine, Health, and Depth to your Hair & Beard. • Suitable for coloured and treated hair Ethonal free. Paraben and sulphate free. Nut free. Cruelty free. Vegan friendly. Not tested on Animals. Luxury Men's Hair & Beard Shampoo Ethanol free Paraben free Cruelty free Vegan friendly Men's Hair & Beard Grooming Range Anne's Salon Quality Luxury Oud Hair & Beard Shampoo. SLS free or SLES free beard shampoos, are one of the hottest developments in male cleansing products today. Health-conscious consumers are increasingly concerned about the chemicals in everything they use, from food to grooming products. This amazing high end hair & beard care shampoo is exceptional! Without the use of so many generally accepted ingredients, our formula will not only cleanse, but will also leave an amazing post wash softened feel. Many formulas can contain large amounts of salt (sodium chloride) which is of course can have a drying effect to both the hair, whisker and skin, but as we have excluded this ingredient, we help the body's natural maintenance and condition of the hair & beard. SLS, SLES, Sodium Chloride and Paraben free! Formulated to reduce the coarse texture on the hair & beard. Our hydrating formula will add shine and natural lustre. To be used as often as desired to nourish and treat longer fuller beards and healthy hair. Use to protect against dry brittle ends of the hair and beards. Our luxury intense Oud scent has been carefully blended for lasting staying power, which will linger until your next hair & beard wash.
Luxury Men's Hair & Beard Shampoo Aqua, Ammonium Lauryl Sulphate, Cocamidopropyl Betaine , Coconut Diethanolamide, Polyquaternium-7, Silicone Quaternium-22, PEG-120 Methyl GlucoseTrioleate, Propylene Glycol, Phenoxyethanol. Parfum. 250ml Men's Hair & Beard Oil infused with Intense Oud Olea Europaea Fruit oil, Canola oil, Pyunus Amygdalus Dulcis oil, Ricnus Communis seed oil, Elaeis Guineensis oil, Parfum. (Intense oud, Vitamin A & E, Antioxidants, Omega 3 & 6. Pure Almond oil, Castor oil and Olive oil.) Manufactured in accordance with Cosmetic Product Regulations.
Luxury Men's Hair & Beard Shampoo To wash hair, only a small application is required for an exceptional wash. Wet hair, apply the shampoo, rinse. Repeat if desired. Please note that the shampoo is suitable to use daily as a beard wash. Men's Hair & Beard Oil infused with Intense Oud Apply 6 pumps 3x per week on dry hair and scalp, massage well and leave overnight.Wash and condition as normal the following morning. We recommend that you use the Anne's Shampoo and Conditioner. Once towel dried your hair and beard, apply 1 pump of the oil on damp hair and style/groom as normal. On damp beard, apply 1 pump of the oil, massage well and groom your beard as normal.