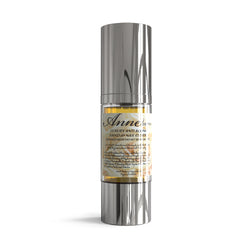 LIGHTEN LUXURY ANTI AGEING HAND & NAIL ELIXIR Infused with Velvet Rose & Oud. 5 in 1 Multi-functional Formula with the Patented Self Regeneration Stem Cell Technology. • Evens & Brightens Skin tone and Reduces Age Spots • Blurs the Appearance of Vertical Wrinkles after only 7 days. • Intense Moisturising & Hydrating affects for Dry Hands. • Contains therapeutic properties for Scar & Wound Healing • With Vitamin E, Rosehip Oil, & Jojoba oil to Strengthen & Condition Nails and Cuticles Product Information Stimulate stem cells and growth factor production. Stimulate epidermis regeneration and thickness. Blur the appearance of vertical wrinkles after only 7 days! Spectacular Unparalleled In Quality. Gorgeously Luxurious and Beautifully Fragranced. Feed Your Skin With Natures Gold. Our Luxurious 5 in 1 Multi-functional Anti Ageing Hand & Nail Elixir with Regeneration Stem Cell Technology will reduce Wrinkles and Age spots within 7 days. Contains Essential Fatty acids and Antioxidant Vitamin E and A to strengthen Nails and smooth Cuticles. Our patented formula will protect nails from breaking, splitting and flaking. 30ml bottle.
An Amazing list of spectacular ingredients including the patented "Self-Regenerative Stem Cell Technology" Sunflower Seed Oil, Jojoba Seed Oil, Squalane, Argan Kernel Oil, Camellia Seed Oil, Kahai Seed Oil, Rosehip Fruit Oil, Baobab Seed Oil, Safflower Seed Oil, Rice Bran Oil, Avocado Oil, Caprylic/Capric Triglycerides, Olive Fruit Oil, Prickly Pear Oil, Liqourice Root Extract, Calendula Flower Extract, Sea Buckthorn Fruit Oil, Apricot Kernel Oil, Mandarin Peel Oil, Frankincense Oil, Lavender Herb Oil, Carrot Seed Oil, Indian Chiretta Extract, Isopropyl Palmitate, Retinyl Palmitate, Aqua, Bisabolol, Parfum, Lecithin, Tocopherol, Linalool, Limonene, Geraniol.
Apply 2/3 times per day especially after contact with water. Apply evenly to your Hands & Nails paying attention to any dry areas and massage gently.