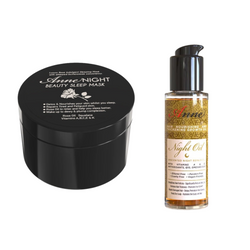 Anne Beauty Sleep Mask + Night Oil Bundle
Beauty sleep for you hair & skin whilst you sleep. Let our products work their magic whilst you sleep! 
Anne's Night Oil - let your hair follicles strengthen whilst you sleep to reduce hair loss, increase hair growth and repair any damage. 
Anne Beauty Sleep Mask - nourish your skin with this vegan brightening sleep mask. Let our AnneNight Beauty Sleep Mask gently melt away into your tired skin after a long day. Screen time can leave its negative effects on our skin, resulting in dull and stressed skin. Our AnneNight Sleep Mask will gently detox your skin and add hydration during the night. You will notice the difference in your skin appearance the moment you awake. Skin texture will feel noticeably smoother and look fresh and radiant.