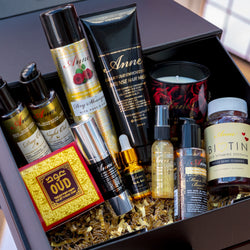 Large Black Gift Set - (Men)
Anne's Luxury Ramadan & Eid Gift sets have arrived at affordable prices, as Ramadan & Eid is all about giving than receiving. Beautifully gifted and packed with our best sellers. Perfect for yourself or your loved ones. 
Also purchase any of our Gift sets and we shall add you in our Anne's Eid money giveaway. 4 lucky winners will be selected at random and will receive £50 each in their gift set as Eid money from Anne! A real surprise for 4 lucky winners who buy any of the Eid & Ramadan boxes.
Price; £85.. . Massive SavIng of £60!!
Items inc; 
1x Anne OudGold Ataar 
1x Rose & Oud candle 
1x Hand & Nail Elixir 
1x Oud Hair mask 
1x Rose & Oud Dry Shampoo
1x Anne's Day & Night hair oils 
1x Hair & beard oil
1x floral bouquet hand sanitiser 
1x Oud hand & body soap